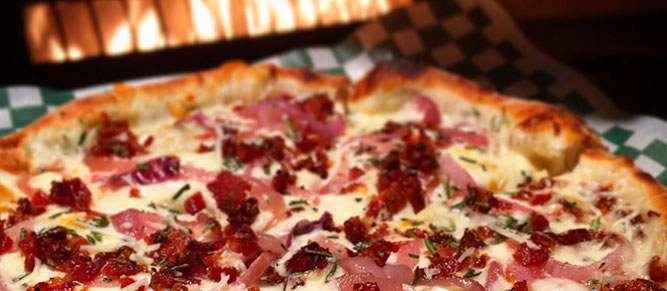 FEB 12 • 10:00am
Since its first restaurant opened almost four years ago, Fiazza Fresh Fired has been a proud supporter of numerous charitable organizations. Through its Fiazza Fresh Fired Fund, the Ottawa Food Bank, the Boys and Girls Club of Ottawa and the Ottawa Rotary Home are among the partners that benefit annually from the company's community-minded spirit. In addition to these ongoing philanthropic endeavours, Fiazza also looks for opportunities to contribute to the success of other organizations. Most recently, the restaurant was pleased to help support the Bridge, a research community space in downtown Ottawa, by donating pizzas which were served at an event to launch a report on key findings related to the links between smoking and drug use among the poor and homeless.
The Bridge report suggests that cutting the rate of smoking among the poor and homeless can also reduce their use of street drugs, including opioids such as heroin and fentanyl. 80 inner-city residents in Ottawa were offered free nicotine replacement therapies as well as peer support, mental health counselling and life skills training to provide a comprehensive approach to battling drug dependency and the issues that can lead to addiction. In the six month study, active participants were able to reduce their daily cigarette use by more than 50% while also decreasing their use of illicit drugs by almost 20%.
The Bridge Engagement Centre (the Bridge), affiliated with the Ottawa Hospital, runs research projects in a true partnership with the target population (homeless, at-risk for homelessness, low income), looking towards co-creating holistic solutions. By collaborating with the target population, the Bridge is able to both improve the current state of knowledge and directly aid the participants in building self-confidence and help them focus on a better future. Fiazza is proud to support the life-changing research being conducted at the Bridge.

The Bridge
OTHER ARTICLES