Our Menu offers a range of signature pizzas for everyone's palette. We provide numerous dietary options so that everyone feels comfortable and can enjoy!
Read the article linked below to learn more about what we are doing to evolve the pizza industry and tailor our food to all dietary needs. 
What makes Fiazza the best pizza in Ottawa? Firstly, we offera variety of pizza options, serving  either your creation or our signature pies – healthy gourmet ingredients, crafted by hand and fired to perfection.  Secondly, our salads are created fresh to order with a zesty inhouse dressings and our wings are flame fired with special inhouse seasoning. Thirdly, we have exclusive partnerships with local beer companies and sell Niagara Wines. Get ready to experience the Evolution of Pizza! Check out our menu below.
YOUR CREATION
PIZZA BASE
All Natural Preservative Free Dough

V+


Gluten-Free Cauliflower Crust V+ | GF
Fiazza Red Sauce V+
Basil Pesto (Nut & )

V+

Fiazza Blanco Sauce 

V+

Red Sauce & BBQ Blend V+
Rosé Sauce

V

Roasted Garlic Oil V+
Artichoke Hearts V+
Banana Peppers

V+

Button Mushrooms

V+

Cherry Tomatoes V+
Green Olives

V+

Kalamata Olives

V+

Sun-Dried Tomatoes 

V+

Roasted Garlic 

V+

Spinach 

V+

Organic Local Oyster Mushrooms  

V+ 

Roasted Green Peppers V+
Roasted Red Peppers

V+

Pineapple V+
Roasted Broccoli V+
Red Onion Slices

V+

Fresh Jalapeno Peppers

V+

Herb Tofu Crumble

V+

Chorizo Spice Tofu

V+

Jackfruit Pepperoni

V+

Smoked Tempeh Bacon

V+
Fiazza Cheese Blend
Fior di Latte
Blue Cheese
Greek Feta H
Soft Ripened Goat Cheese
Dairy Free Mozzarella V+ 
Extra Cheese 
Fire Roasted Herb Chicken H
Pepperoni
Local Smoked Ham
Local Spicy Italian Sausage
Sicilian Anchovies
Smoked Bacon
Spicy Genoa Salami
Italian Prosciutto
Arugula

V+

Chili Flakes

V+

EVOO Drizzle V+
Fresh Basil

V+

Fresh Rosemary V+

Fresh Sage

V+

Honey Drizzle

V

Hot Honey Drizzle

V

Oregano

V+

Fresh Lemon Drizzle

V+

Spicy Oil

V+

Sriracha

V+

Truffle Oil

V+

Sage Herb Oil

V+

Parmesan Cheese
Fresh Cracked Pepper

V+

Balsamic Reduction

V+
SPEACIALITY PIZZAS
WINGS | SALADS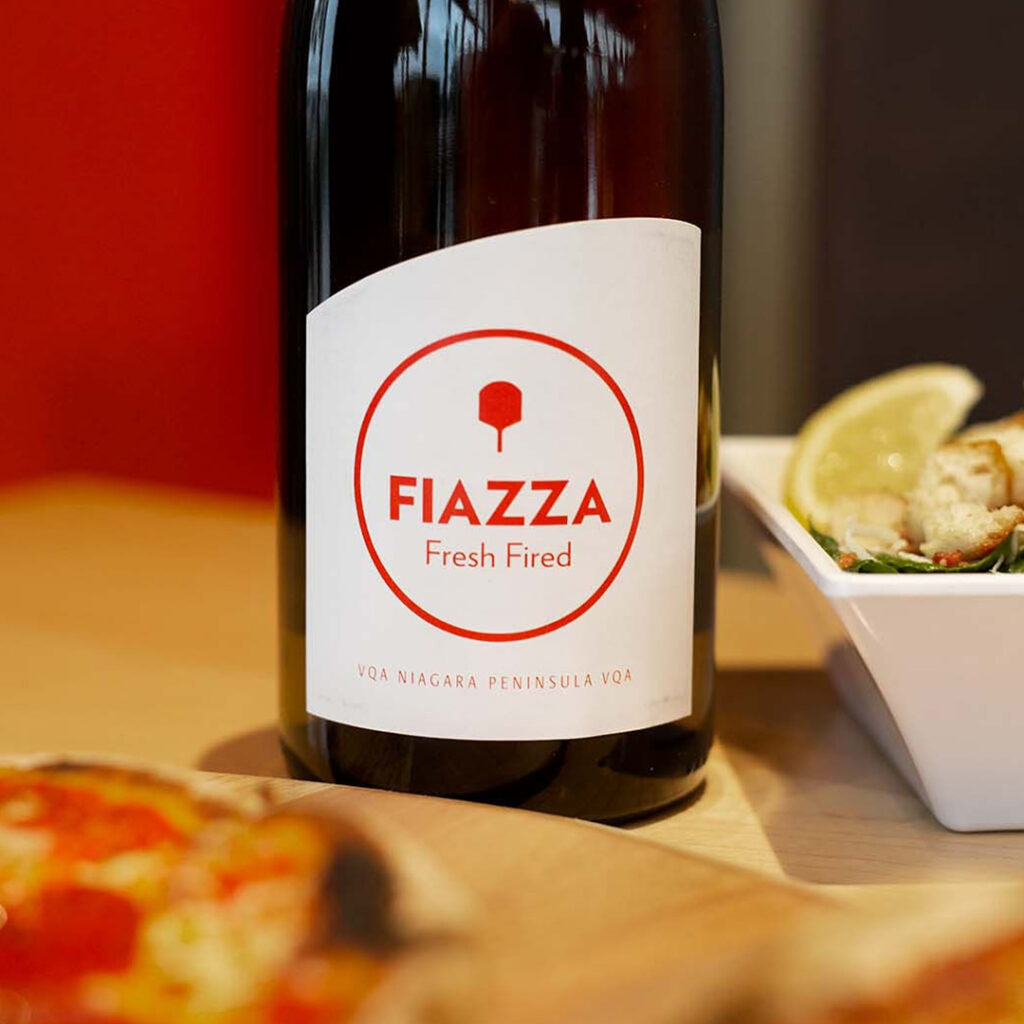 It's official. We have our very own wine to our menu! The grapes are from the old vines of Vineland Estates, which is located on the bench of the Niagara Region. Vineland Estates Winery has partnered with famous wine enthusiasts such as Kevin O'Leary. Learn more about our wine Combo. 
The Cotto Fresco is back on our menu by popular demand. In partnership with Kichesippi Brewery, this crisp Italian Lager pairs perfectly with a freshly fired Neapolitan pizza. Purchase today at a reduced rate in our Game Day Combo.